26 December 2020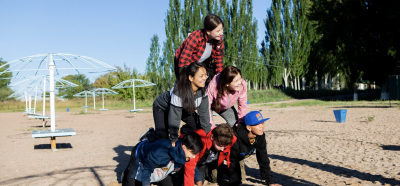 "Oasis" Foundation has been working in the field of social protection and integration of vulnerable youth and children in Kyrgyzstan since 2008: street children, victims of human trafficking and violence, graduates of orphanages.
Our main goal of working with vulnerable youth is to expand economic and legal opportunities, to assist in the safe transition of vulnerable children into adult, independent life. Since its inception, the Foundation has been helping vulnerable children and youth through its programs and projects. We have helped over 600 vulnerable children and youth to successfully socialize into society. More than 100 vulnerable youth become our beneficiaries every year.
To increase the economic and educational opportunities of vulnerable young people, we conduct large-scale legal education campaigns, educational trainings in residential institutions, and rehabilitation camps. In our activities, we actively cooperate with the Ministry of Education and Science of the Kyrgyz Republic, the Ministry of Labor and Social Development, international and local organizations.
It is important for us that vulnerable children and young people receive the following information:
1) access to social support;
2) access to housing;
3) access to education;
4) access to judicial protection;
5) access to safe employment;
5) about their civil and economic rights and opportunities.
Over the years of our work, we have developed more than 15 training modules, which are aimed at increasing the capacity of not only vulnerable youth, but also employees of care institutions and government agencies to support and protect vulnerable children.