1 August 2023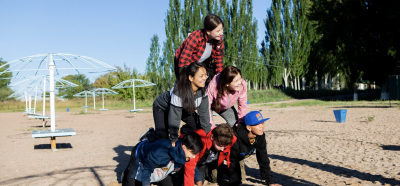 "Oasis" Foundation has been working in the field of social protection and integration of vulnerable youth and children in Kyrgyzstan since 2008: street children, victims of human trafficking and violence, graduates of orphanages.
The research undertaken by Oasis Kyrgyzstan in partnership with Our Voice highlights the vulnerability of young people as they leave the care of institutions (care leavers). On graduation, almost 91% of care leavers are economically disempowered, unable to participate in democratic processes or contribute to society, and vulnerable to involvement in crime, extremist groups, prostitution and being trafficked. Only 3.2% of care leavers have access to higher professional education; most care leavers do not complete secondary education or have no opportunity to continue their education because of lack of social benefits and appropriate state protection. About 83% of care leavers do not have access to medical services because many of them do not have a permanent place of residence.
In 2008, Oasis launched the Vulnerable Youth Support Program to provide a comprehensive support to at risk youth and children in Kyrgyzstan. This program provides a safe transition for at-risk youth from vulnerable communities into adulthood through access to public services and social protection. Over the past six years, more than 30 human rights schools, rehabilitation camps, and sports activities have been held for 500 at-risk youth across Kyrgyzstan. Oasis team conduct all activities in accordance with Human Rights Education Program, "Oasis' 9 habits" program, "Sports for life" and "Line up, live up" programs, which are aimed at improving social and personal skills, preventing violent extremism, and radicalization.
Additionally, Oasis developed program on rehabilitation/reintegration of juvenile probation clients and children in conflict with the law. This program was recognized by the Ministry of Labour, Social Welfare and Migration and Ministry of Justice of the Kyrgyz Republic as an important part of restorative and juvenile justice system. According to Oasis' analysis more that 40% of children in conflict with law are social orphans, care leavers from vulnerable communities left without parental care and proper social protection. In order to socialize and reintegrate them, Oasis team try to develop policies and legislative changes on post-institutional support of care leavers, developing juvenile justice system, social protection of at-risk youth in Kyrgyzstan.