4 January 2021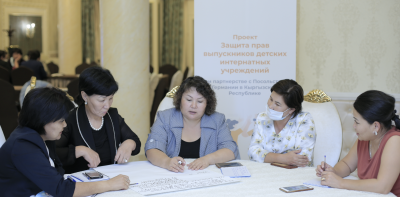 We actively defend the rights of vulnerable youth, specifically care leavers, youth in conflict with the law, victims of violence and human trafficking, through legislative initiatives, legal education, and legal assistance.
CARE LEAVERS ADVOCACY
The main areas of activity are:
Interaction with state authorities to improve the system of protection of rights for more effective assistance to families and children in difficult life situations;
Providing comprehensive support for children left without parental care for successful integration into society;
Prevention of social orphanhood, organization of correctional work with families in a socially dangerous situation, in order to prevent cases of loss of parental care by children and removal of children from the family;
Attracting public attention to the problems of social orphanhood.
–
PROTECTING THE RIGHTS OF YOUTH IN CONFLICT WITH THE LAW
The main areas of activity are:
Legal advice on obtaining access to guaranteed public services;
Conducting rehabilitation camps, where young people receive various support through the Foundation's programs;
Promotion of legislative initiatives and state programs based on social partnership for the rehabilitation of young people in conflict with the law.
Providing methodological support to the Probation Department under the Ministry of Justice of the Kyrgyz Republic.
–
PROTECTING THE RIGHTS OF VICTIMS OF VIOLENCE AND VICTIMS OF HUMAN TRAFFICKING
The main areas of activity are:
Assisting government agencies to create a sustainable system for the protection of abused children;
Prevention of all forms of human trafficking by raising awareness among vulnerable young people and communities;
Prevention of human trafficking and assistance to victims of human trafficking by providing methodological support to state bodies.