26 December 2020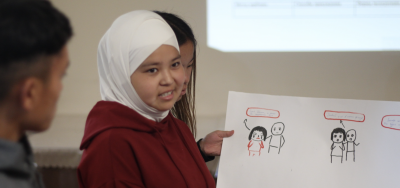 Everyone has the right to education
Every child should learn, develop and contribute to the life of his community. In Kyrgyzstan, care leavers must leave the institution at the age of 15-16 and be ready to survive on their own, earn money for food, clothing, and transportation costs. Young people very often do not realize that education must be taken seriously, that a set of required skills and knowledge can provide them financial stability now and in the future. According to UNICEF, the lack of education makes it difficult for these children to adapt and integrate into society after leaving care institutions. Such a difficult life situation forces them to commit crimes, remain homeless, and become victims of the human trafficking compare to children who grew up in a family.
Observations and researches of the "Oasis" foundation show that after leaving care institutions young people have a limited choice of professions when entering professional educational institutions. They do not have sufficient financial resources to enter private colleges and universities, and do not have enough information on how to get support from government to continue studies and internships. Only 1% of care leavers have the opportunity to enrol in higher educational institutions of Kyrgyzstan, more than 90% of young people do not know about grants that are provided by the government for vulnerable children.
Bilim Belek
Bilim Belek is a crowdfunding program for collecting voluntary donations to develop education of care leavers in Kyrgyzstan. Our goal is to provide equal opportunities for the education of talented children who are left without care and support of relatives or parents, so that more vulnerable youth can get an education, a profession, and develop their talents.