18 January 2021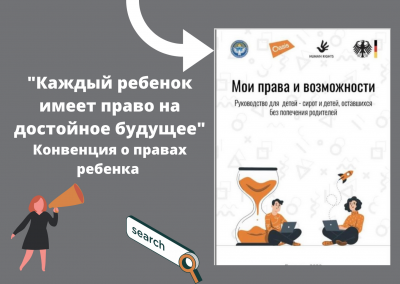 ???? Oasis Foundation has developed a handbook for orphans and children without parental care. This handbook details the role of government and local governments to protect and support vulnerable children.
???????? In total, we plan to train more than 350 vulnerable children and about 100 representatives of state bodies and local self-government bodies in Kyrgyzstan. We have already trained about 20 heads of boarding schools where more than 1000 orphans live.
???? Children will be educated on how to enter educational institutions, how to get medical and social assistance, how to register with the state employment agency, how to get unemployment benefits and temporary housing. In the event of a crisis, where to contact and which authorities and services to call.
✔️Also, this handbook is recommended for use by specialists of state bodies and local self-government bodies of the Kyrgyz Republic to provide post-boarding support for vulnerable children.
This handbook was developed in cooperation with the Ministry of Education and Science of the Kyrgyz Republic within the framework of the project "Protection of the rights of graduates of residential institutions" with the support of Deutsche Botschaft Bischkek German Embassy in Bishkek ????????