21 January 2022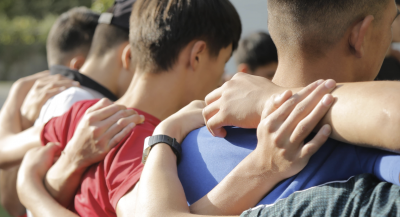 Convicted juveniles, as a special category of juvenile delinquents, require a special approach in the choice of means of corrective action applied to them. Placement of a child in an institution can be a risk factor for social exclusion, and as a result, falling into a group of minors in conflict with the law.
Our Foundation is actively implementing the Program "Resocialization of Children in Conflict with the Law".
The purpose of the program is to develop a comprehensive social and psychological rehabilitation in order to introduce technologies for social support for children in conflict with the law (those who have committed offenses and crimes).
Program implementation
The program is implemented using innovative social technologies, models and methods focused on practical results, contributing to the achievement of sustainable results of the socialization and rehabilitation of underage children in conflict with the law, including clients of juvenile probation and social support for families raising children in conflict with the law, including juvenile justice clients. This program provides a comprehensive approach to the socialization of young people in conflict with the law through:
Personal development – which is aimed at helping the child in self-determination, understanding their life priorities, preventing bad habits. Also, through communication training and sports program young people learn how to interact with others;
Access to opportunities – which is aimed at informing children about educational opportunities, effective choice of profession. Young people get the opportunity to participate in various projects and programs of our social partners. Also, the most vulnerable children left without parental care, social orphans get the opportunity to participate in the Bilim-Belek program, where participants receive financial assistance to pay for professional courses and education in educational institutions.
Legal literacy – which aims to raise awareness of children in conflict with the law on access to friendly justice, protection. Legal literacy includes trainings not only on the right to be heard, but also on social legal responsibility, which helps young people to recognize different types of responsibilities.
Restoring the mental health of children in conflict with the law. Particular attention is paid to technologies for identifying the causes and conditions that contribute to the commission of offenses/crimes by minors. Group and individual work with psychologists help program participants to reflect on their behavior. Specialists also identify children with asocial, antisocial, self-destructive behavior who need to go through rehabilitation camps. Mental health activities help the participants to recognize the signs of aggression, anger, depression and turn to a psychologist in time or take action through certain exercises. This reduces the risk of suicide among teenagers.